is een salon gespecialiseerd in traditionele Thaise massages, therapieën en wellness, gelegen in de wijk Daalmeer in Alkmaar. U kunt bij ons terecht voor Thaise traditionele massages, ontspanningsmassages, deeptissuemassages, voetmassages, of een hoofd- nek- en schoudermassage, eventueel aangevuld met kruidenstempel of hotstone behandeling.
Persoonlijke behandeling en aandacht voor de klant is onze norm.
leest u alstublieft ook even onze aanvullende maatregelen om
het "Corona-virus" (Covid-19), te minimaliseren.

OVER ONS
Chokdee Massage is op 9 september 2006 gestart in Alkmaar.
De behandelingen worden uitgevoerd door de zeer ervaren Thaise masseuse Noi. Zij heeft haar opleidingen gedaan bij verschillende gerenomeerde opleidingsinstituten voor "traditionele Thaise massages en therapieën" in Thailand. Regelmatig volgt Noi ook bijscholingscursussen om het behandelingsniveau op peil te houden en om nieuwe technieken te leren. U bent bij Noi dus in goede handen. Alle behandelingen zijn geschikt voor zowel dames & heren en zijn een weldaad voor uw lichaam en geest.
-Voor de duidelijkheid vermelden we dat er absoluut géén erotische (be)handelingen worden verricht ! -
ChokdeeMassage-masseuse-Noi
Wanneer
Onze gediplomeerde masseuse Noi, staat van maandag tot en met zaterdag van 10:00 tot 21:30 uur voor u klaar, maar wel alleen na afspraak!
Kadobon bestellen
Een leuk kado idee, een massage kadobon van Chokdee Massage, hier on-line te bestellen.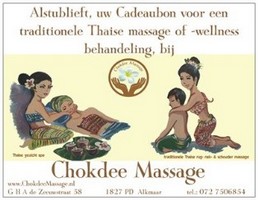 BEZOEK CHOKDEE MASSAGE OP FACEBOOK